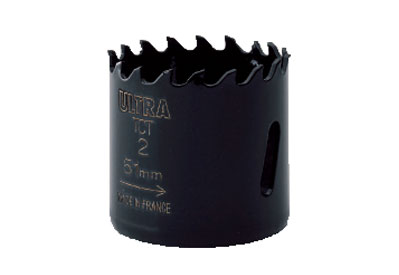 Utilisation : Percage de tous les nnateriaux abrasifs tels que fibre de verre, cloisons et platre, ceramique, plastiques renforces. Vitesse de coupe elevee, grande resistance.
Caracteristiques : Dents en carbure de tungstene soudees et affOtees sur un corps en acier trait&
USE : Drilling all abrasive materials such as fiber glass, partitions and plaster, ceramics, reinforced plastics. High speed cutting and resistance.
Characteristics : Solid sharpened carbide teeth welded to a one treated steel body, laser marking.
CD ULTRA - TCT
O (mm)
O (pouce)
MANDRIN CHUCK
TCT 19
19
3/4
SC 3 ou/or
SC 3R ou/or
SD3 ou/or
TC 1
TC 2 R
TC 3
TCT 21
20,7
13/16
TCT 22
22,2
7/8
TCT 24
23,8
15/16
TCT 25
25,4
1
TCT 27
27
1 1/16
TCT 29
28,6
1 1/8
TCT 30
30,2
13/16
TCT 32
31,8
1 1/4
TCT 35
34,9
13/8
TCT 38
38,1
1 1/2
TCT 40
39,7
1 9/16
TCT 41
41,3
1 5/8
TCT 43
42,9
1 11/16
TCT 44
44,5
1 3/4
TCT 51
50,8
2
TCT 54
54
2 1/8
TCT 57
57,2
2 1/4
TCT 60
60,3
2 3/8
TCT 64
63,5
2 1/2
TCT 65
65,1
2 9/16
TCT 70
69,9
2 3/4
TCT 79
79,4
3 1/8
TCT 83
82,6
3 1/4
TCT 89
88,9
3 1/2
TCT 92
92,1
3 5/8
TCT 95
95,3
3 3/4
TCT 102
101,6
4
TCT 105
104,8
4 1/8
TCT 152
152,4
6