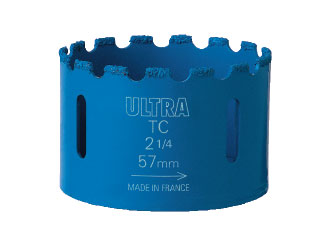 Utilisation : Percage de tous les materiaux tits abrasifs : faience, fibrociment, tuiles, briques, ardoises. Ne pas utiliser sur machines avec percussion.
Caracteristiques : Profondeur de coupe : 35-40 mm, acier allie au chrome.
USE : Drilling all abrasive materials : ceramics, asbestos, tiles, bricks, slates. Do not use with hammering power tool drilling machines.
Characteristics : Cutting depth : 35-40 mm, alloyed steel to the Chrome, deposit of carbide grit on the treated steel body.
CD ULTRA - TCT
O (mm)
O (pouce)
MANDRIN CHUCK
TC 14
14,3
9/16
SC 3
ou/or
SC 3R
ou/or
SD 3
ou/or
TC 1
TC 2 R
TC3
TC 16
15,9
5/8
TC 17
17,5
11/16
TC 19
19
3/4
TC 21
20,7
13/16
TC 22
22,2
7/8
TC 24
23,8
15/16
TC 25
25,4
1
TC 27
27
1 1/16
TC 29
28,6
1 1/8
TC 30
30,2
13/16
TC 32
31,8
1 1/4
TC 35
34,9
13/8
TC 37
36,5
1 7/16
TC 38
38,1
1 1/2
TC 40
39,7
1 9/16
TC 41
41,3
1 5/8
TC 43
42,9
1 11/16
TC 44
44,5
1 3/4
TC 46
46
1 13/16
TC 48
47,6
1 7/8
TC 51
50,8
2
TC 54
54
2 1/8
TC 57
57,2
2 1/4
TC 60
60,3
2 3/8
TC 64
63,5
2 1/2
TC 65
65,1
2 9/16
TC 67
67,2
2 1/4
TC 70
69,9
2 3/4
TC 76
76,2
3
TC 79
79,4
3 1/8
TC 83
82,6
3 1/4
TC 89
88,9
3 1/2
TC 92
92,1
3 5/8
TC 95
95,3
3 3/4
TC 102
101,6
4
TC 105
104,8
4 1/8
TC 111
111,1
4 3/8
TC 114
114,3
4 1/2
TC 127
127
5
TC 152
152,4
6