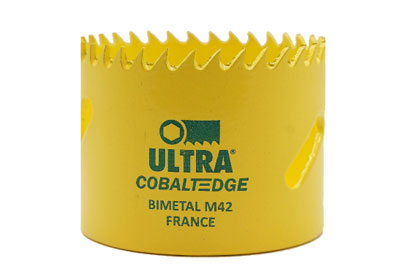 La toute nouvelle génération de trépans ULTRA SCY est dotée d'une technologie de pointe. A l'inverse des trépans classiques en bimétal qui utilisent un support traditionnel et une denture en HSS M3, ceux de la nouvelle gamme SCY d'ULTRA sont composés d'un matériau support en acier de haute qualité et d'une denture à coupe positive en HSS M42 allié à 8 % de Cobalt. Cette innovation unique permet à ULTRA de trouver l'équilibre idéal entre l'arête parfaite et un renfort solide.
The All New Next Generation ULTRA SCY Hole Saw comes with a State-of-Art Technology. Conventional Bimetal Hole Saws use HSS M3 Edge going below the Teeth along with the Traditional Backing where as the New ULTRA SCY Hole Saws are using HSS M42 8% Cobalt Edge are manufactured under a special process where in the HSS Edge is above the teeth and has a High-Quality Alloy Backing Material. With this unique innovation ULTRA has got the perfect balance between the Perfect Edge and a Strong Backer.
Utilisation : Perçage de métaux usinables, d'aciers inoxydables, de feuilles et tôles de métal, d'aluminium, de cuivre, de laiton, de plastique, de bois massif, de bois avec clous, de bois d'ingénierie. Installations de tuyauteries et conduites, de serrures, de conduites électriques, de boîtiers et d'antennes. Idéal pour les applications plomberie, construction, aéronautique, électricité, maintenance et automobile.
Applications : Machinable Metals, Stainless Steel Alloys, Sheet Metal, Aluminum, Copper, Brass, Plastic, Wood, Nail-embedded Wood, Engineered Wood.
For Pipe, Tubing Installations, Door Lock Installations, Electrical Conduit, House and Antennas.
Ideal for Plumbing, Construction, Aircraft, Electrical, Maintenance and Automotive Applications.