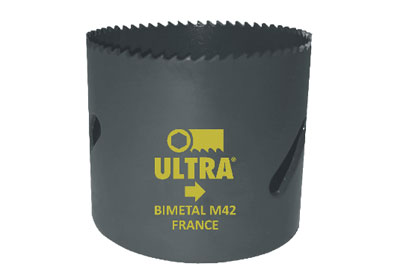 Utilisation : Percage de tous les materiaux et metaux courants de faible epaisseur, special piquage de tube, evite-h-coups, blocage au debouchage, offre un meilleur confort de coupe.
Caracteristiques : Fond usine en tole epaisse, denture a coupe positive au pas fixe de 10T. Profondeur de coupe : 34-38 mm.
USE : Drilling all materials and small thickness metals, recommended for cutting tubes, sudden stoppages due to binding are greatly reduced.
Characteristics : Thicker bottom, 10TPI fine pitch with positive angle, cutting depth : 34-38 mm.
CD ULTRA - SC
O (mm)
O (pouce)
MANDRIN CHUCK
SCF 16
15,9
5/8
SC1
ou/or
SC 2R
ou/or
SD2
SCF 19
19
3/4
SCF 21
20,7
13/16
SCF 22
22,2
7/8
SCF 24
23,8
15/16
SCF 25
25,4
1
SCF 27
27
1 1/16
SCF 29
28,6
1 1/8
SCF 32
31,8
1 7/16
SCF 35
34,9
1 9/16
SCF 38
38,1
1 11/16
SCF 40
39,7
1 3/4
SCF 44
44,5
1 15/16
SCF 49
49,7
2 1/8
SC3
ou/or
SC 3R
ou/or
SD3
SCF 51
50,8
SCF 60
60,3
2 1/2
SCF 61
61,7
2 9/16
SCF 64
63,5
2 5/8
SCF 65
65,1
2 11/16
SCF 67
66,7
2 3/4
SCF 68
67,7
2 7/8
SCF 76
76,2
3 1/4
SCF 79
79,4
3 3/8
SCF 83
82,6
3 1/4
SCF 90
90,9
3 9/16
SCF 102
101,6
4
SCF 127
127
5